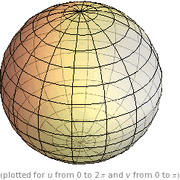 The sphere is a the rotatope with three round dimensions, and no flat dimensions. Hence, it is the 3D hypersphere. It can also be considered as being the set of all points that are the same distance from another point (the centre) in space. The volume of a sphere is 4pi/3 * r^3
Equation
Edit
A sphere of diameter
can be constructed by drawing the curve that satisfies
.
Hypervolumes
Edit
Subfacets
Edit
A sphere has no subfacets of one dimension or below. Its only two-dimensional subfacet is its surface, which is also, quite confusingly, called a sphere. To unambiguously distinguish between the 2D surface and the 3D volume, the volume can be called a "ball".
Ad blocker interference detected!
Wikia is a free-to-use site that makes money from advertising. We have a modified experience for viewers using ad blockers

Wikia is not accessible if you've made further modifications. Remove the custom ad blocker rule(s) and the page will load as expected.